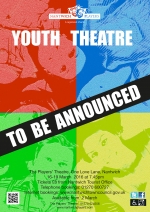 YOUTH THEATRE PRODUCTION
Tue 1 March 2016
THE WITCHES by Roald Dahl Adapted by David Wood
"In fairy-tales, witches always wear silly black hats and black cloaks, and they ride on broomsticks.
But this is not a fairy-tale.This is about REAL WITCHES."
Witches absolutely detest children. To a witch, a child smells like dogs' droppings. And now the Grand High Witch is planning to get rid of every child in England – can anybody stop them? The Witches tells the story of a brave young boy and his Norwegian grandmother as they battle against England's child-hating witches.
The Witches continues to be a massive success 30 years after it was first published and this stage adaptation is a sure fire hit with adults and children alike.
"This stylish adaptation of Roald Dahl's The Witches is so utterly beguiling, it carries you along on a glorious journey of fiendish fantasy. The Witches is top drawer family entertainment - chilling but thrilling!" (Bournemouth Evening Echo)
Performances will be at 7.45PM on 16 - 19 March 2016
Tickets priced at £8.00 will be on sale from Nantwich Tourist Office (01270 600727) or on-line at www.nantwichtowncouncil.gov.uk from 1 March 2016.