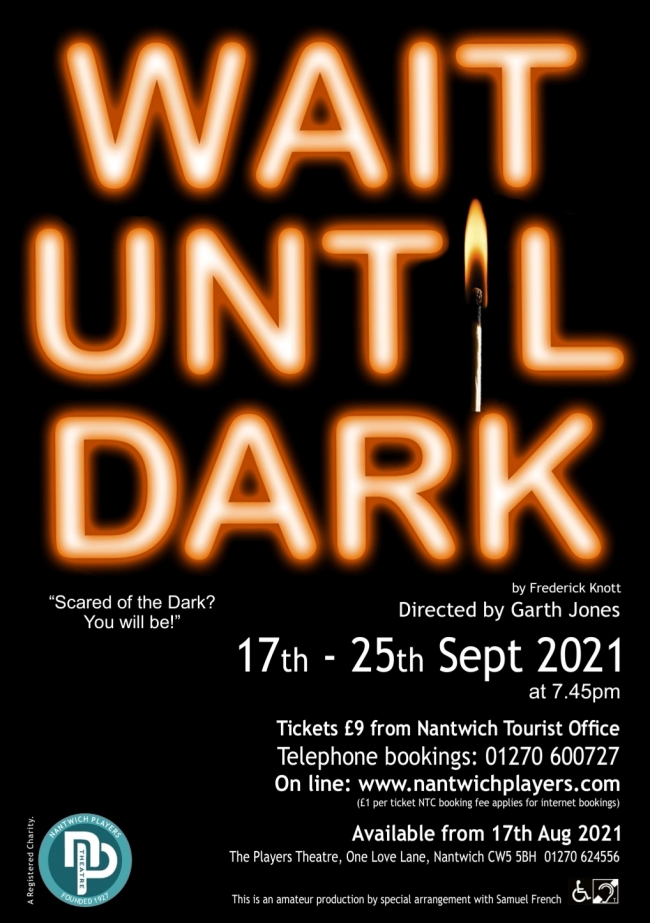 Wait Until Dark
Fri 17 September 2021 - Sat 25 September 2021
by Frederick Knott
Frederick Knott is a master of manipulation, originality and fear.
This unusual thriller has never lost its ability to frighten and tease as it builds to its terrifying climax. A young blind woman is forced to defend herself from evil men using her only advantage, darkness. But nothing in this play is easy and the battle between light and darkness goes on throughout, with the playwright using every opportunity to build tension in a play that has delighted audiences since its Broadway production in 1966.
Audrey Hepburn was nominated for an Oscar for her portrayal of Susy Hendrix in the film of the same name in 1967, with Alan Arkin as the evil Harry Roat. It is a battle of wits which asks the question, not "Who dunnit?" but "Will she survive?" The plot moves relentlessly but with some humour, playing on our emotions and fears…
This will be an exciting night at the theatre, with a play as fresh as ever it was, with great characters for the actors and huge challenges for the set, sound and lighting in our intimate theatre. It is a play that is also human, entertaining and full of surprises.
"Scraed of the Dark? You will be!"
Directed by Jeremy Acklam performances will be at 7.45pm on 17th – 25th September 2021. Tickets priced at £9.00 will be on sale from Nantwich Tourist Office (01270 600727) or on-line at www.nantwichtowncouncil.gov.uk from Tuesday 17th August 2021 at 9am.
We are pleased to be maintaining Covid secure measures at our theatre to reassure audiences, with additional daily cleaning, a one way system, constant fresh air flow, and wearing of facemasks when not seated