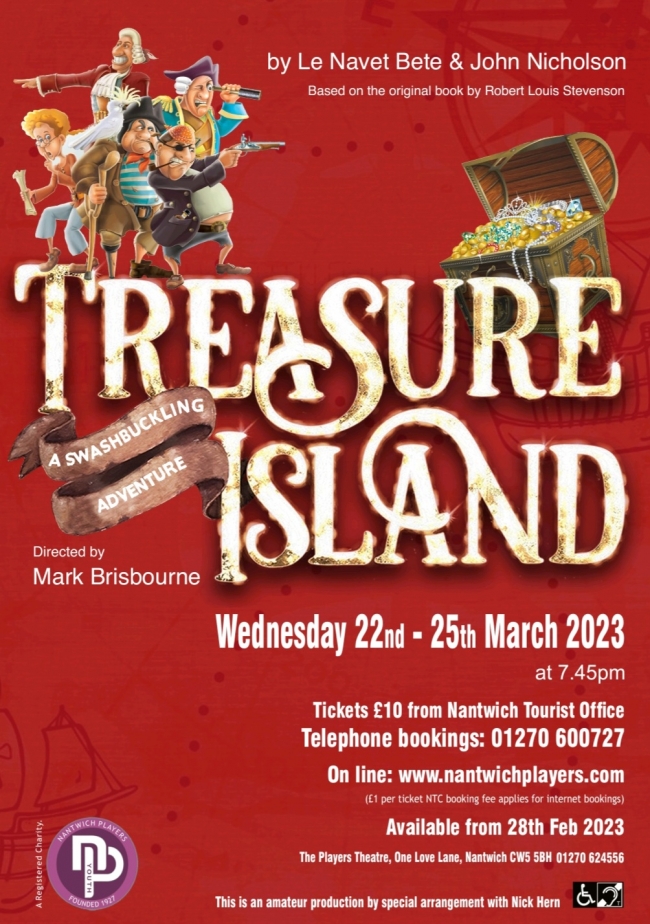 Treasure Island
Wed 22 March 2023 - Sat 25 March 2023
by Le Navet Bete & John Nicholson
Based on the original book by Robert Louis Stevenson
Treasure Island is a true classic, it has adventure, suspense and some mighty fine pirates, what else could you ask for?

Well, how about adding a famous TV chef, a wife made out of coconuts, a famous Abbot and Costello routine, a 21st century environmental activist and a game of PlayYour Cards Right!!

This production is a rip-roaring, swashbuckling, family friendly re-telling of this much beloved tale that will tickle your funny bones and take you on a hilarious search for Flint's treasure on Skull Island.

Young Jim Hawkins' life is changed when he finds a treasure map in a dead pirates trunk and sets off on a Caribbean adventure. He acquires a ship, a cast of extroverted pirates and finds himself in a race to the buried treasure. A mutiny, a mermaid love interest and the wacky native Ben Gunn all combine to help him in this coming of age tale.

So buckle your swash and come and join us on this riproaring journey upon the high seas. You'll meet all of your favourite characters, Long John Silver, Jim Hawkins, Billy Bones along with some that Stevenson left out of the original tale.
X doesn't always mark the spot.
A RIP-ROARING, SWASHBUCKLING ADVENTURE FROM START TO TREASURE!
Directed by Mark Brisbourne performances will be at 7.45pm on 22nd – 25th March 2023. Tickets priced at £10 will be on sale from Nantwich Tourist Office (01270 600727) or on-line at www.nantwichtowncouncil.gov.uk from Tuesday 28th February 2023 at 9am.