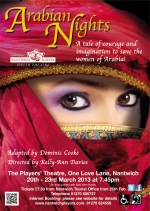 TICKETS! ARABIAN NIGHTS
Fri 1 March 2013
ARABIAN NIGHTS adapted by Dominic Cooke
Tickets will be available from next Monday (25 February)!
For years, King Shahrayar has taken bloody vengeance against the women of his city, marrying a new bride every night and killing her in the morning.
Shahrazad is determined to stop the bloodshed using the only weapons she has - her wit and imagination. Night after night, the King's newest bride weaves tales of intrigue, silliness and suspense. How long can her stories save her?
This high-energy youth theatre production will enthrall audiences of all ages with traditional tales such as Ali Baba, The Little Beggar and Simbad The Sailor performed in a modern style.
Performances at 7.45pm 20 - 23rd March 2013
Tickets on sale at Nantwich Tourist Office (01270 600727) from 25 February 2013