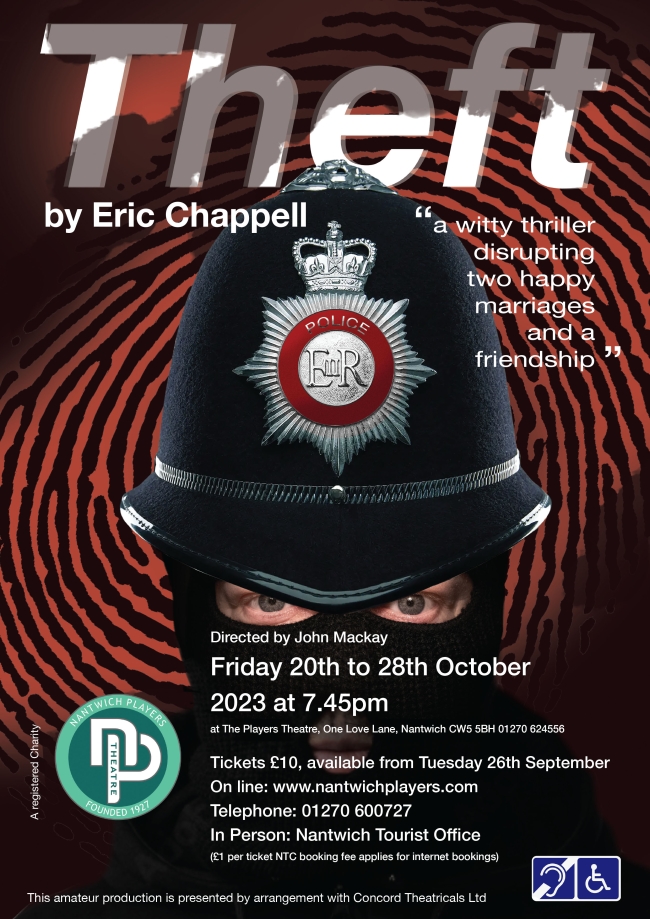 Theft
Fri 20 October 2023 - Sat 28 October 2023
Step into a world of deception, laughter, and clever twists with "Theft" by Eric Chappell. In the heart of a charming English cottage, a hilarious and suspenseful tale unfolds, leaving you on the edge of your seat.
Join us as we journey into the lives of two seemingly ordinary couples, whose paths intertwine in unexpected ways. As the evening progresses, secrets emerge, and a seemingly innocent game of cards takes a thrilling turn. With each passing moment, you'll find yourself drawn deeper into a web of mystery, as characters' true intentions are cleverly revealed.
Chappell's brilliant writing and sharp wit keep you guessing until the very end, blending comedy with suspense in an exhilarating way, a rollercoaster ride of emotions, where nothing is quite what it seems, and laughter and surprises abound.
Directed by John Mackay performances will be at 7.45pm on 20
th
– 28
th
October 2023. Tickets priced at £10 will be on sale from Nantwich Tourist Office (01270 600727) or on-line at
www.nantwichtowncouncil.gov.uk
from Tuesday 26
th
September 2023 at 9am.
Priority tickets for our VIP Supporters go on sale Saturday 23rd September 2023. To find out more about becoming a VIP Supporter visit the membership section of the website