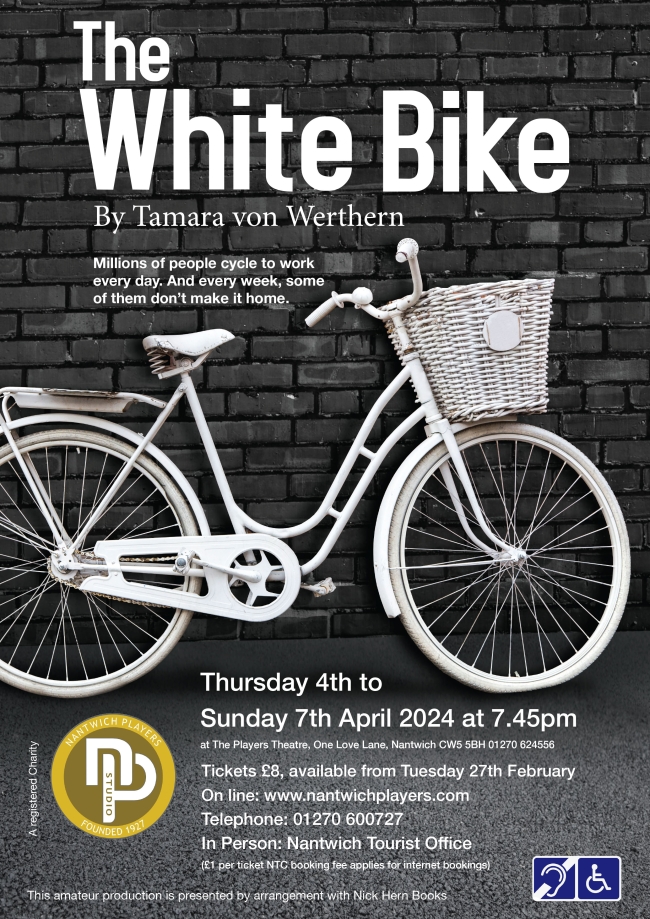 The White Bike
Thu 4 April 2024 - Sun 7 April 2024
Expect to be moved by the powerful and poignant storytelling of Tamara von Werthern's "The White Bike." In a raw and intimate portrayal, the play takes you on a journey of love, loss, and resilience.
Meet our protagonist as she grapples with the aftermath of a tragic event, seeking solace and understanding in the wake of her life-changing experience. Through a cleverly crafted narrative, the play explores the complexities of grief and the human spirit's unwavering determination to find hope in the darkest moments, leaving you reflecting on life's fragility and the strength that emerges from adversity.
Don't miss the opportunity to be part of this moving theatrical experience that will remind you of the power of the human spirit and the bonds that connect us all.
Performances will be at 7.45pm on 4
th
– 7
th
April 2024. Tickets priced at £8 will be on sale from Nantwich Tourist Office (01270 600727) or on-line at
www.nantwichtowncouncil.gov.uk
from Tuesday 27
th
February 2023 at 9am.
Priority tickets for our VIP Supporters go on sale Saturday 24th February 2023. To find out more about becoming a VIP Supporter visit the membership section of the website