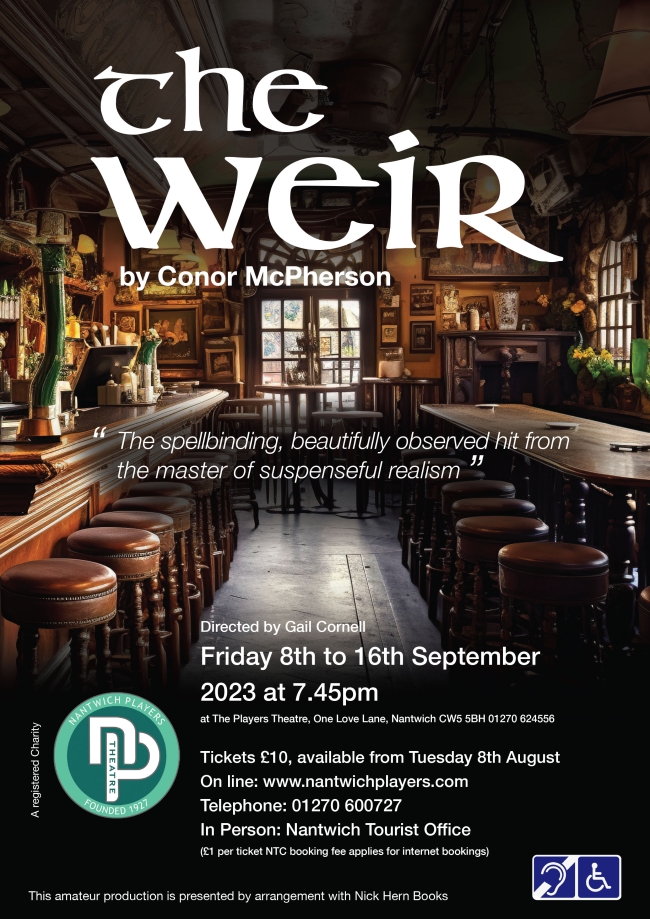 The Weir
Fri 8 September 2023 - Sat 16 September 2023
Director Gail Cornell invites you to step into a remote Irish countryside pub, where "The Weir" by Conor McPherson unfolds.
Gathered around the hearth, five locals share haunting tales of their past, love, and fears. As the night deepens, an undeniable sense of the supernatural creeps in, blurring the lines between reality and the unexplained. McPherson's masterful storytelling evokes emotions, leaving you questioning life's mysteries and the bond between the living and the dead.
Don't miss this captivating journey into the hidden depths of the human soul. Book your tickets to experience "The Weir" – an unforgettable evening that lingers long after the final curtain.
Directed by Gail Cornell performances will be at 7.45pm on 8
th
– 16
th
September 2023. Tickets priced at £10 will be on sale from Nantwich Tourist Office (01270 600727) or on-line at
www.nantwichtowncouncil.gov.uk
from Tuesday 8
th
August 2023 at 9am.
Priority tickets for our VIP Supporters go on sale Saturday 5th August 2023. To find out more about becoming a VIP Supporter visit the membership section of the website