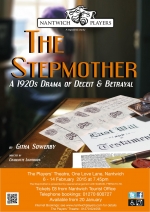 THE STEPMOTHER
Sun 1 February 2015
THE STEPMOTHER by Githa Sowerby
In 1911 an innocent young orphan inherits a large fortune. Widowed businessman Eustace Gaydon advises her, and then marries her. His two daughters love and admire their stepmother, Lois. She runs the family and the home as well as a successful dress-making business.
Ten years later, however, it is apparent that Eustace's commercial dealings are not entirely straightforward.
How much should a wife know about her husband's business affairs? How much should a husband interfere with his wife's? Will the local solicitor ever consent to his son's marriage? And what are the motives of the next-door neighbour?
This family drama of trust and betrayal is by the author of Rutherford and Son, staged here in 2009.
Directed by Charlotte Lightbody, performances will be at 7.45pm on 6 - 14 February, 2015.
Auditions will be held at the Theatre at 7.45pm on 11th November. Non-members may audition by joining and paying membership on the night.
Tickets priced at £8.00 will be on sale from Nantwich Tourist Office (01270 600727) from 20 January, 2015.