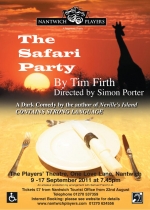 THE SAFARI PARTY
Thu 1 September 2011
THE SAFARI PARTY by Tim Firth
Three households in Cheshire have agreed to hold a "safari party" - a dinner where each course is served in a different house. The hors d'oeuvres are served by two brothers whose abusive father was recently shot dead; the entrees by Lol and Esther, upwardly mobile and vulgar, accompanied by their daughter, Bridget; and desserts by Inga, a seemingly benign antiques dealer.
The three households are linked not just socially: there's the whole question of the table - the brothers sold it to Inga, with a bit of a tale, and then she re-sold it, with even more elaborate storytelling - to Lol and Esther. As the evening progresses, the many layers of truth about the table, some shocking, are revealed .... and violence flares.The play is funny and deliciously dark (with some strong language).
Performances at 7.45pm 9 - 17 September 2011
Tickets on sale at Nantwich Tourist Office (01270 537359) from 22nd August
"A Cheshire comedy in three courses, not including the cheese".