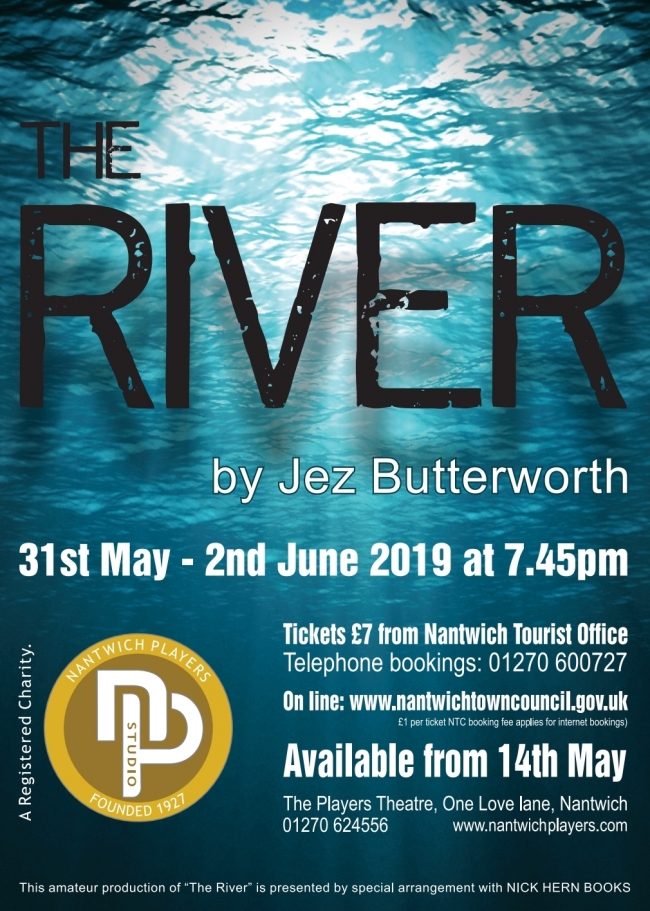 The River
Fri 31 May 2019 - Sun 2 June 2019
Nantwich Players are very excited to announce their final Studio production of the season. 'The River' by Jez Butterworth. This play is an intensely allusive, non-linear psychodrama which will find you completely engaged and touched by the end.
On a moonless night in August when the sea trout are ready to run, a man brings his new girlfriend to the remote family cabin where he has come for the fly-fishing since he was a boy. But she's not the only woman he has brought here – or indeed the last. A beautiful and poignant story of love, loss, and patterns of pain that are acknowledged, but somehow remain unbroken.
The River was first performed at the Royal Court Theatre, London, on 18 October 2012., it was Jez Butterworth's first major play to be performed since Jerusalem (2009), which had also premiered at the Royal Court and had gone on to become a huge critical and commercial hit. The River received its Broadway premiere at Broadway's Circle in the Square Theatre on 16 November 2014 in a production directed by Ian Rickson.
We caught up with one of the leads for the Studio team and they had this to say, "The thing I loved the most about the play is that Jez Butterworth, plays around with time, continuity, and emotional temporality in an interesting way. Instead of creating a realistic timeline of events, he instead chooses a variety of focal points, all stark, striking, and tactile images that really activate, engage, and bewitch the senses."
Don't miss this stunning piece of theatre!
Running from Friday 31st May to Sunday 2nd June 2019 at 7:45.
Tickets are £7.00 and will be available from 14th May 2019.
Telephone bookings: 01270 600727
Online booking: www.nantwichtowncouncil.gov.uk
(£1 per ticket NTC booking fee applies for internet bookings)