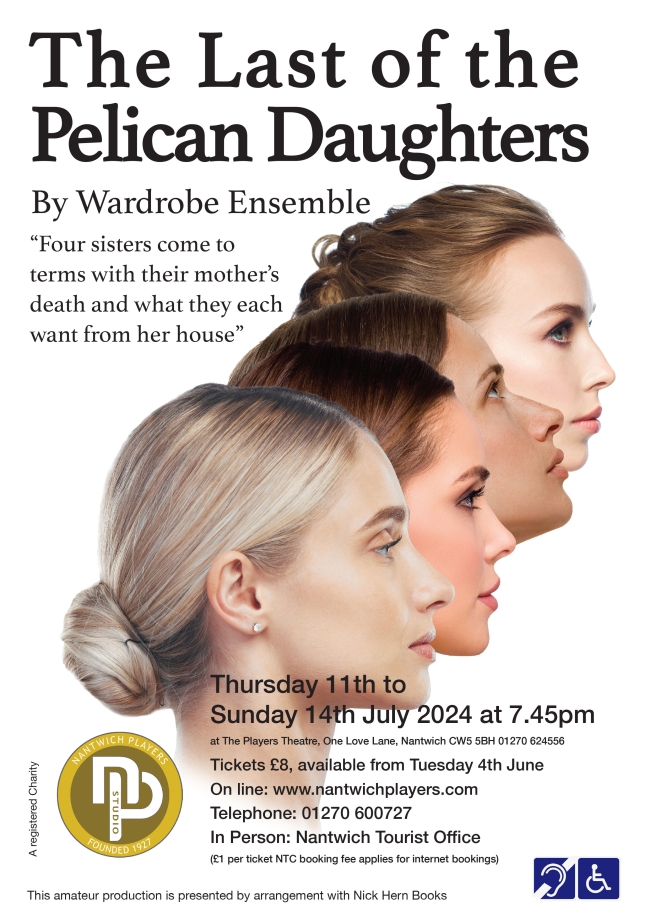 The Last of the Pelican Daughters
Thu 11 July 2024 - Sun 14 July 2024
Join us for a heartwarming and whimsical journey with Wardrobe Ensemble's captivating play, "The Last of the Pelican Daughters." Set against the backdrop of a charming seaside town, this delightful production follows the lives of four extraordinary sisters as they navigate the joys and challenges of family, love, and sisterhood.
As the story unfolds, you'll be drawn into the world of the Pelican family, each sister bringing her own quirks and dreams to the stage. With a perfect blend of humour and poignancy, the play explores the unbreakable bonds that tie these siblings together and the transformative power of shared memories.
"The Last of the Pelican Daughters" showcases the Wardrobe Ensemble's masterful storytelling, whisking you away on a rollercoaster of emotions that will leave you both laughing and touched by the heartwarming moments of sisterly love.
Performances will be at 7.45pm on 11
th
– 14
th
July 2024. Tickets priced at £8 will be on sale from Nantwich Tourist Office (01270 600727) or on-line at
www.nantwichtowncouncil.gov.uk
from Tuesday 4
th
June 2024 at 9am.
Priority tickets for our VIP Supporters go on sale Saturday 1st June 2024. To find out more about becoming a VIP Supporter visit the membership section of the website