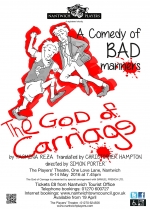 THE GOD OF CARNAGE
Sun 1 May 2016
THE GOD OF CARNAGE by Yasmina Reza Translated by Christopher Hampton
Following the award winning production of Art in 2012, Nantwich Players proudly present Yasmina Reza's sharp-edged play The God of Carnage which premiered at the Gielgud Theatre, London, in March 2008 and won the Tony Award and Laurence Olivier Award for Best Comedy in 2009. Christopher Hampton's translation has been praised as "exquisite" and by the Daily Express as "A triumph! Brilliantly translated by Christopher Hampton"
What happens when two sets of parents meet up to deal with the unruly behaviour of their children? A calm and rational debate between grown-ups about the need to teach kids how to behave properly? Or a hysterical night of name-calling, tantrums and tears before bedtime? Boys will be boys, but the adults are usually worse - much worse.
"A study in the tension between civilized surface and savage instinct, this play is itself a satisfyingly primitive entertainment."
—NY Times.
"Elegant, acerbic and entertainingly fuelled on pure bile. It's Reza's sharpest work since 'Art'."
—Variety.
"Brutally entertaining…in another of Christopher Hampton's exquisite translations, [Reza] cannily manipulates social observations that appeal to vast audiences and creates characters that bring out the best in actors." —NY Newsday.
"Reza holds the mirror up to bourgeois hypocrisy with the savage indignation of a born satirist",
—Guardian.
The play contains adult themes and strong language that provides a realistic tone to the action, as used in context.
Directed by Simon Porter, performances will be at 7.45pm on 6 - 14 May, 2016.
Auditions will be held at the Theatre at 7.45pm on Tuesday 23rd February. Non-members may audition by joining and paying membership on the night.
Tickets priced at £8.00 will be on sale from Nantwich Tourist Office (01270 600727) or on-line at www.nantwichtowncouncil.gov.uk from 19 April 2016.