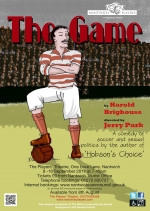 The Game
Fri 1 September 2017
by Harold Brighouse
A comedy of soccer and sexual politics by the author of 'Hobson's Choice'
They take the National Game seriously up in Blackton, and things haven't been going too well for the Rovers. Their glory days are well behind, they're losing brass hand over fist, the Club's only decent player wants to marry the Chairman's daughter, and the Chairman wants to let him go on transfer to Blackton's deadly rivals - though he might just need him to nobble his first match at his new club...
If some of this sounds familiar, don't be fooled. This is Lancashire, 1914 - and where there's muck there's money!
By the author of 'Hobson's Choice', 'The Game' is a fast-moving social comedy of soccer and sexual politics, set during a single Saturday afternoon in the season.
Kick-off at a quarter-to-eight each night!
Directed by Jerry Park, performances will be at 7.45pm on 8th – 16th September, 2017.
Tickets priced at £9.00 will be on sale from Nantwich Tourist Office (01270 600727) or on-line at www.nantwichtowncouncil.gov.uk from Tuesday 8th August 2017.