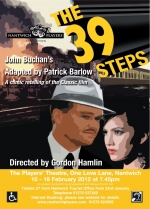 THE 39 STEPS
Wed 1 February 2012
THE 39 STEPS by John Buchan adapted by Patrick Barlow
Urbane, bored Richard Hannay has been back in London for 3 months now and is, frankly, wondering why. After he makes eyes at a mysterious, foreign woman at the theatre, she accompanies him back to his London home .... where she soon turns up dead.
With no more than that, Hannay is cast into a headlong run for his life as a mysterious spy organisation alternately pursues and is pursued by him, from London to Scotland and back, as he fights to clear himself of the murder.
Imagine Hitchcock's iconic film version translated onto the stage. Four actors play around 140 characters, with great comic timing and imaginative narration.
Performances at 7.45pm 10 - 18 February 2012
Tickets on sale at Nantwich Tourist Office (01270 537359) from 23 January
"Sex appeal, fights, Scotland Yard, love, betrayal, car chases, silk stockings, French men, English women, sheep, murder ...."