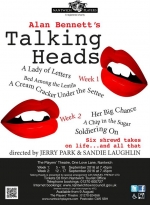 TALKING HEADS
Thu 1 September 2016
TALKING HEADS by Alan Bennett
Alan Bennett's Talking Heads achieved classic status as soon as they were first broadcast thirty years ago. Thoughtful, tragic and comic, these monologues cut a cross-section across English life in the 1980s.
The Players will be staging six monologues in all: three in the week beginning 5 September, and a further three in the week beginning 12 September. Meet…
… Doris, elderly and alone but still waging war on household dirt
… Susan, 'Mrs Vicar' desperate to escape the C of E - and her husband
… Muriel, a prosperous widow, whose life has not been all that it seems
… Irene, dedicated to righting wrongs through anonymous letters
… Graham, whose mum's taken up with a fancy man.
… Lesley, hopeful that her latest role could be the break her acting career deserves
Directed by Jerry Park & Sandie Laughlin, performances will be at 7.45pm on 5 - 10 September and 12 – 17 September, 2016.
Tickets priced at £8.00 will be on sale from Nantwich Tourist Office (01270 600727) or on-line at www.nantwichtowncouncil.gov.uk from Tuesday 9th August 2016.