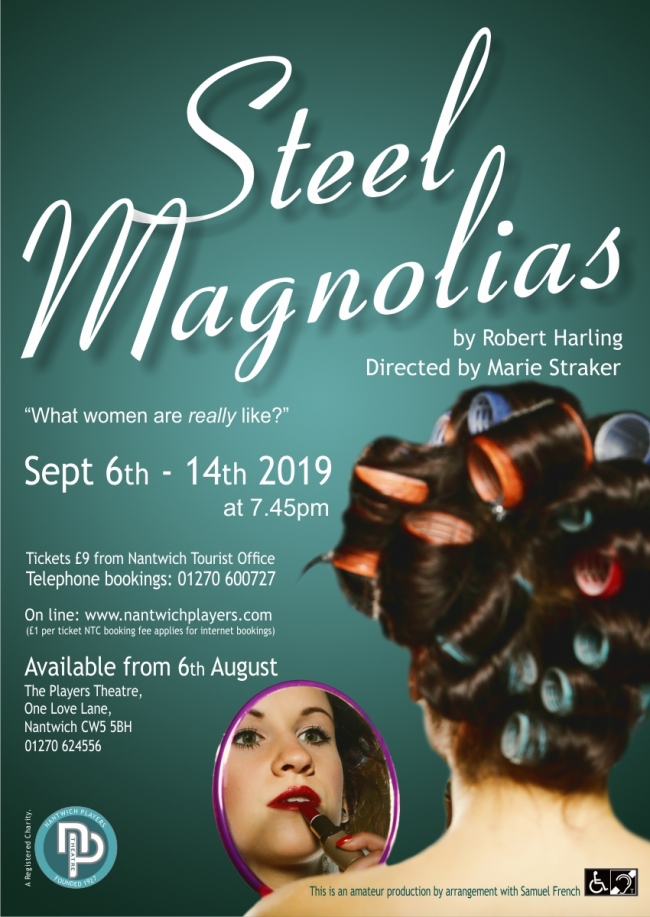 Steel Magnolias
Fri 6 September 2019 - Sat 14 September 2019
By Robert Harling
'Steel Magnolias' is a warm, witty, play full of deliciously funny and outrageous comments but also very moving and thought provoking. The play is based in the 1980s in the Deep South of America, specifically a small town in Louisiana. It is set in the best beauty and hair salon in town, run by local woman, Truvy, and her new young assistant Annelle. Her four regular clients are; Clairee, the widow of the former Mayor; M'Lynn (short for Mary Lynn), a socially prominent career woman; her daughter, Shelby, who is about to be married; and their neighbour, Ouiser, a wealthy curmudgeon!
These women have formed, over the years, the sort of relationships and friendships that do develop in such a venue and, at the start of the play, the regulars all come to be "made ready" for the wedding later that day.
The title of the play indicates much about all of these women - beautiful and delicate on the outside - but made of steel beneath and heartbreakingly demonstrated as they deal with the tragedy that unfolds.
"What women are really like?"
Directed by Marie Straker performances will be at 7.45pm on 6th – 14th September 2019. Tickets priced at £9.00 will be on sale from Nantwich Tourist Office (01270 600727) or on-line at www.nantwichtowncouncil.gov.uk from Tuesday 6th August 2019 at 9am.
Priority tickets for our VIP Supporters go on sale Saturday 3rd August at the Theatre. To find out more about becoming a VIP Supporter visit the membership section of the website.