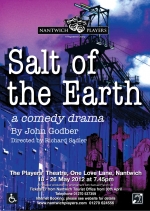 SALT OF THE EARTH
Tue 1 May 2012
SALT OF THE EARTH by John Godber
Beginning during the post-war austerity of 1947 and culminating amid the backdrop of the Miners' strike of the 1980's, the play follows the lives of sisters Annie and May and their families through the 20th Century, through an era of changing values and attitudes.
John Godber's play spans three generations of decent honest working class folk from a West Yorkshire mining town, making the best of what they have, and the most of every opportunity they are given.
Performances at 7.45pm 18 - 26 May 2012
Tickets on sale at Nantwich Tourist Office (01270 537359) from 30 April
"A story of love and loss, dreams and disappointment, community and culture, humour and heartache"