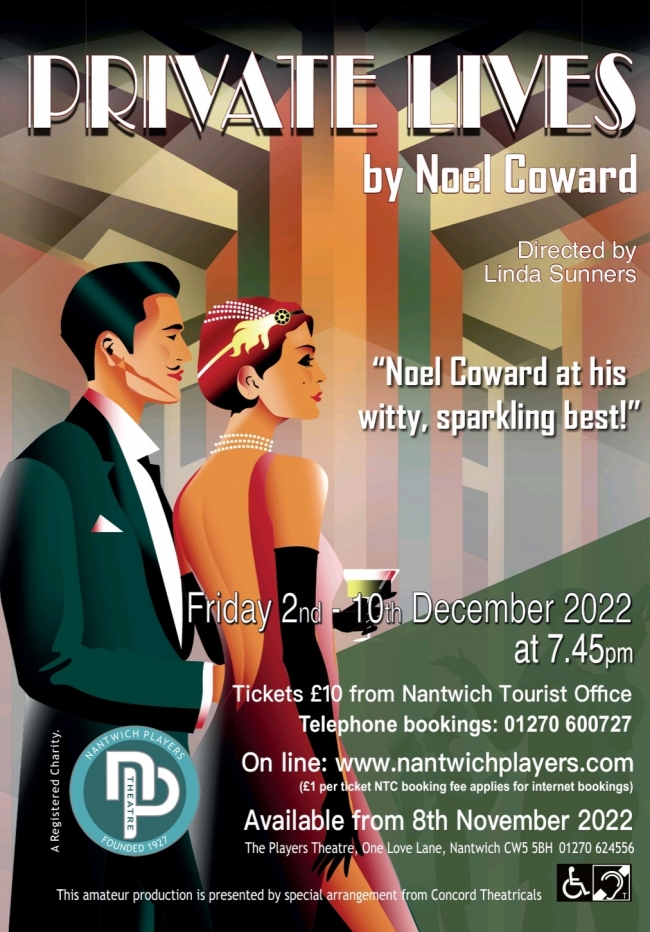 Private Lives
Fri 2 December 2022 - Sat 10 December 2022
by Noel Coward
Noel Coward's Private Lives tells the story of Elyot Chase and Amanda Prynne who divorced each other on the grounds that they were totally unable to get along. Meeting again for the first time in many years, they discover that they are both on honeymoon with new partners in the same hotel in the South of France and admiring the vista from adjoining balconies. Their initial horror evaporates as, within no time at all, they're sharing cocktails, cigarettes and a romantic serenade and rekindling their previous passion.
The passion which once united and then divided them is reignited with disastrous consequences for all concerned. Set on the beautiful French Riviera and in Paris.
Directed by Linda Sunners performances will be at 7.45pm on 2nd – 10th December 2022. Tickets priced at £10 will be on sale from Nantwich Tourist Office (01270 600727) or on-line at www.nantwichtowncouncil.gov.uk from Tuesday 8th November 2022 at 9am.
Priority tickets for our VIP Supporters go on sale Saturday 5th November 2022. To find out more about becoming a VIP Supporter visit the membership section of the website