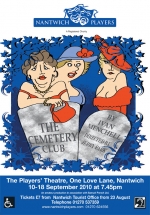 OPENING NIGHT FRIDAY 10th
Wed 1 September 2010
THE CEMETERY CLUB by Ivan Menchell
Contrary to its sombre title, this poignant play has a touching and romantic theme, following three friends who are coping with widowhood in different ways. An attractive widower tests the bonds of their friendship.
A bittersweet but very funny play with performances at 7.45pm 10 - 18 September.
There may be some seats left so ring Nantwich Tourist Office 01270 537359 to book or pop along on the night if you live near enough. At least you can buy a drink at the bar before going home if you are unsuccessful....