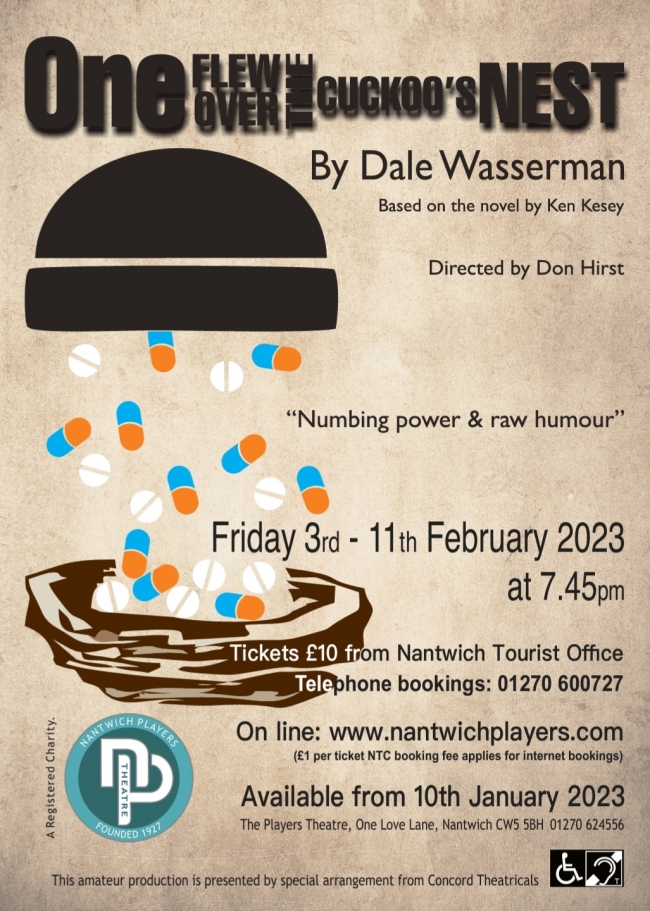 One Flew Over the Cuckoo's Nest
Fri 3 February 2023 - Sat 11 February 2023
by Dale Wasserman Based on the novel by Ken Kesey
Very few people will need to be introduced to this wonderful story as most will have seen the amazing Jack Nicholson as Randle P. McMurphy in the film of the same name.
Set in a state mental hospital in the US in the 60's, this play tells the story of the impact Randle P. McMurphy, a drinking and smoking chancer who played at having a mental condition to avoid a prison sentence, and how he influenced and changed the lives of the inmates of the ward. It is heart-warming, funny, informative of the institutions of the time, terrifying and above all thoroughly entertaining.
McMurphy enters the institution thinking this is an easy option and starts by ridiculing the institution and the patients. As time goes on, he builds a close friendship with the inmates and finds himself butting heads on a regular basis with Nurse Ratched. Some wonderful characters emerge who learn McMurphy's approach to life —anyone for basketball in the Ward? This includes Billy Bibbit a young man with speech difficulties and no confidence at all. The attractions of the female sex are a mystery to him, and McMurphy works hard to remedy this.
A play that dips you into the history of mental health treatment and society's approach to sufferers, but in a way that reassures us that progress has in fact been made.
The play that spawned the film.
Directed by Don Hirst performances will be at 7.45pm on 3
rd
– 11
th
February 2023. Tickets priced at £10 will be on sale from Nantwich Tourist Office (01270 600727) or on-line at
www.nantwichtowncouncil.gov.uk
from Tuesday 10
th
January 2023 at 9am.
Priority tickets for our VIP Supporters go on sale Saturday 7th January 2023. To find out more about becoming a VIP Supporter visit the membership section of the website