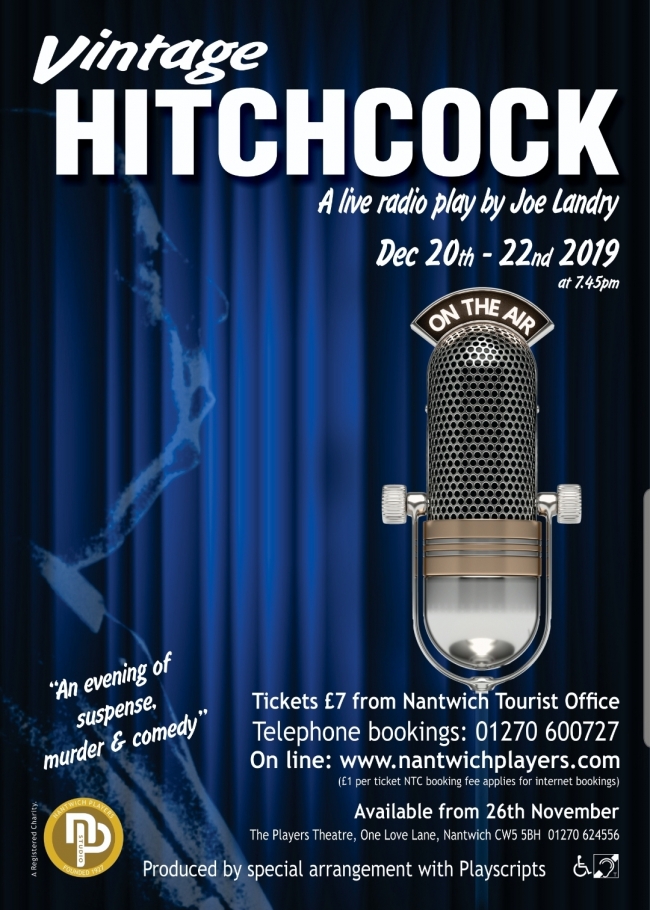 NP Studio - Vintage Hitchcock - A Live Radio Play
Fri 20 December 2019 - Sun 22 December 2019
Spies, murder, love, and other trademarks of Alfred Hitchcock come to life in the style of a 1940s radio broadcast of the master of suspense's earlier films. Hitchcock: A Live Radio Play is a triple feature, complete with vintage commercials, that recreates a daring train chase, a serial killer's ominous presence, and a devastating explosion through the magic of live sound effects and musical underscoring.
A wonderful nostalgic and exciting retelling of three of Alfred Hitchcock's most famous stories — The Lodger: A Story of the London Fog (1927), Sabotage (1936), and The 39 Steps (1935)— in the style of an old-time radio broadcast. Complete with sound effects and vintage commercials, all performed live onstage, it will take you back to the 1940's, and, as it's narrator announces eerily at the beginning, will 'put murder back in the home- where it belongs'. So, relax, lean back and enjoy yourself.
The Lodger; a serial killer known as 'The Avenger' is stalking the streets of London in 1888. Have Mr and Mrs Bunting unwittingly taken as a lodger the very same man? And what will happen to their beautiful daughter Daisy, who is the very type of girl that the Avenger chooses to target…
Sabotage; Mr Anton Verloc owns a cinema in the heart of London with his American wife, Winnie and her teenage brother, but this is just a cover for his terrorist activities. Will the police discover his secret before his most daring plan is put into action?
The 39 steps; Richard Hannay becomes embroiled in an international spy ring known only as 'The 39 Steps'. Murder soon follows, and after a case of mistaken identity he must elude the police. Together with his unwilling accomplice, Pamela, he must clear his name and stop British secrets being sent abroad.
Vintage Hitchcock is presented by the NP Studio team and performances will be at 7.45pm on 20th – 22nd December 2019. Tickets priced at £7.00 will be on sale from Nantwich Tourist Office (01270 600727) or on-line at www.nantwichtowncouncil.gov.uk from Tuesday 26th November 2019 at 9am.