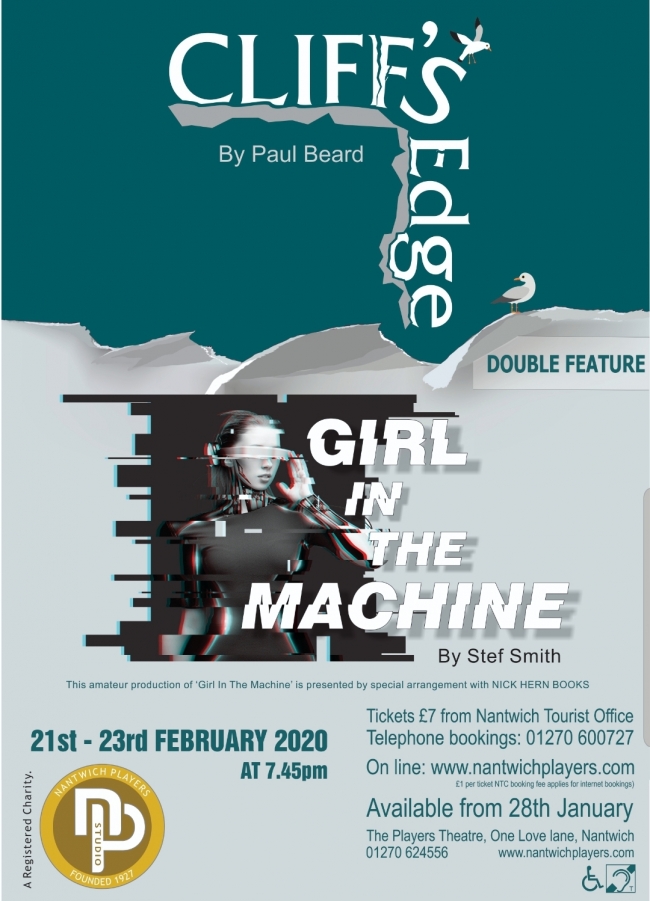 NP Studio - Double Feature: Cliff's Edge and Girl in the Machine
Fri 21 February 2020 - Sun 23 February 2020
Cliff's Edge by Paul Beard.
A suicidal failed actor, a maniacally depressed pub landlord and a schizophrenic passer-by are the characters in this blackest of comedies. Set on the cliff top at Beachy Head, this carefully researched piece of modern theatre has received critical acclaim since its showcase in Edinburgh and subsequent productions in Chicago, Madrid, Stockholm, Melbourne and Prague.
From the start this play is full of intrigue, and although handling the sensitive topic of suicide it is lifted wonderfully into a comical insight into the personalities of each character and their lives.
Girl in the Machine by Stef Smith
Stef Smith's play Girl in the Machine is a dystopian drama exploring our potential digital future, and what it might mean for 'life' as we know it. The play was first performed at the Traverse Theatre, Edinburgh, on 5 April 2017.
The play is set 'not too far into the future', in a house belonging to corporate lawyer Polly and her husband, Owen. Polly has recently been promoted, and spends most of her time working, so Owen presents her with a new gadget, 'Black Box', to help her relax. Black Box is a headset that offers virtual reality experiences that are both seductive and addictive. As Polly slides inexorably into digital dependency, it becomes apparent that, beyond the isolation of this apartment, people are rising up in protest at the new technology and its increasing hold over human life. Polly and Owen are forced to question whether their definitions of reality and freedom are the same.
This double feature is presented by the NP Studio team and performances will be at 7.45pm on 21st – 23rd February 2020. Tickets priced at £7.00 will be on sale from Nantwich Tourist Office (01270 600727) or on-line at www.nantwichtowncouncil.gov.uk from Tuesday 28th January 2020 at 9am.