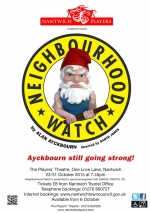 NEIGHBOURHOOD WATCH
Thu 1 October 2015
NEIGHBOURHOOD WATCH by Alan Ayckbourn
When Monty the garden gnome is attacked, the Neighbourhood Watch determines to keep crime in its place. Devout Martin soon takes charge and the convolutions we have come to expect from our national playwright soon follow. What is the other statue in the garden? Why has young Ethan lost his precious clarinet? Can Martin resist the charms of unhappily married Amy? Huge fences, committees,
identity cards and a burned down pigeon shed are just some examples of what follows. The play raises some provocative questions but the Ayckbourn comic genius shines through it all. First performed in 2011, it provides good acting roles and the situation develops right up to the play's
dramatic climax. Ayckbourn fans will not be disappointed by its comedy whilst the play's modern
edge and its portrayal of local acrimony may please any newcomers to this master of theatre.
Charles Spencer wrote in the Telegraph
"This timely and provocative play rivets attention throughout"
Directed by Garth Jones, performances will be at 7.45pm on 23 - 31 October, 2015.
Auditions will be held at the Theatre at 7.45pm on Tuesday 30th June. Non-members may audition by joining and paying membership on the night.
Tickets priced at £8.00 will be on sale from Nantwich Tourist Office (01270 600727) or on-line at www.nantwichtowncouncil.gov.uk from 6 October 2015.