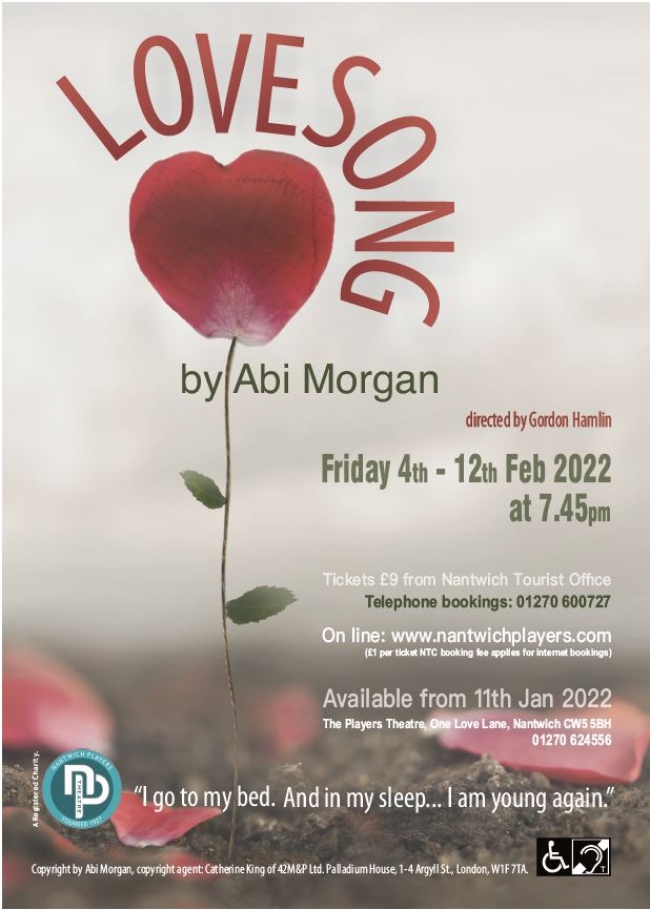 LOVESONG
Fri 4 February 2022 - Sat 12 February 2022
by Abi Morgan
Abi Morgan's LOVESONG is the story of one couple told from two different points in their lives – as young lovers in their 20s and as worldly companions looking back on their relationship.
LOVESONG is as tender as the bruised peaches that fall to the ground in their garden as their past and present selves collide in a haunting and beautiful tale of togetherness.
All relationships have their ups and downs and as the optimism of youth becomes the wisdom of experience LOVESONG moves backwards and forwards through time as four actors tell the story of their love, their marriage and their shared yearning and life together.
Both couples interweave in the house of memories, allowing
"I go to my bed. And in my sleep... I am young again."
Directed by Gordon Hamlin performances will be at 7.45pm on 4th – 12th February 2022. Tickets priced at £9.00 will be on sale from Nantwich Tourist Office (01270 600727) or on-line at www.nantwichtowncouncil.gov.uk from Tuesday 11th January 2022 at 9am.
Priority tickets for our VIP Supporters go on sale Saturday 8th January 2022 at the Theatre. To find out more about becoming a VIP Supporter visit the membership section of the website