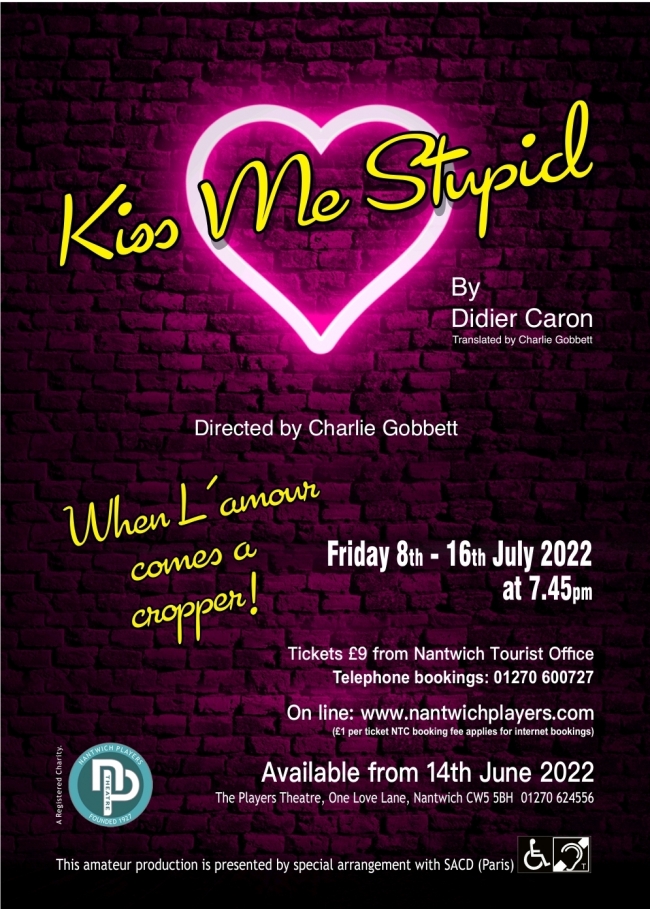 Kiss Me Stupid
Fri 8 July 2022 - Sat 16 July 2022
by Didier Caron Translated by Charlie Gobbett
The English world premiere of Didier Caron's classic French comedy!
Retired estate agent and cycling nut Bernard is convinced his wife of 30 years, Viviane, is having an affair. Ooh la la!
His solution is to hire pretty but none-too-bright actress Cindy to play his mistress and make Viviane jealous. But two can play at that game! Viviane realises what Bernard is up to and pretends to be enamoured with her much younger colleague Olivier.
Will love and reason win through or does Bernard's obstinate refusal to realise how lucky he is condemn him to losing the woman he doesn't deserve?
You will have to book your tickets to find out!
"When L'amour comes a cropper!"
Directed by Charlie Gobbett performances will be at 7.45pm on 8th – 16th July 2022. Tickets priced at £9.00 will be on sale from Nantwich Tourist Office (01270 600727) or on-line at www.nantwichtowncouncil.gov.uk from Tuesday 14th June 2022 at 9am.
Priority tickets for our VIP Supporters go on sale Saturday 11th June 2022 at the Theatre. To find out more about becoming a VIP Supporter visit the membership section of the website