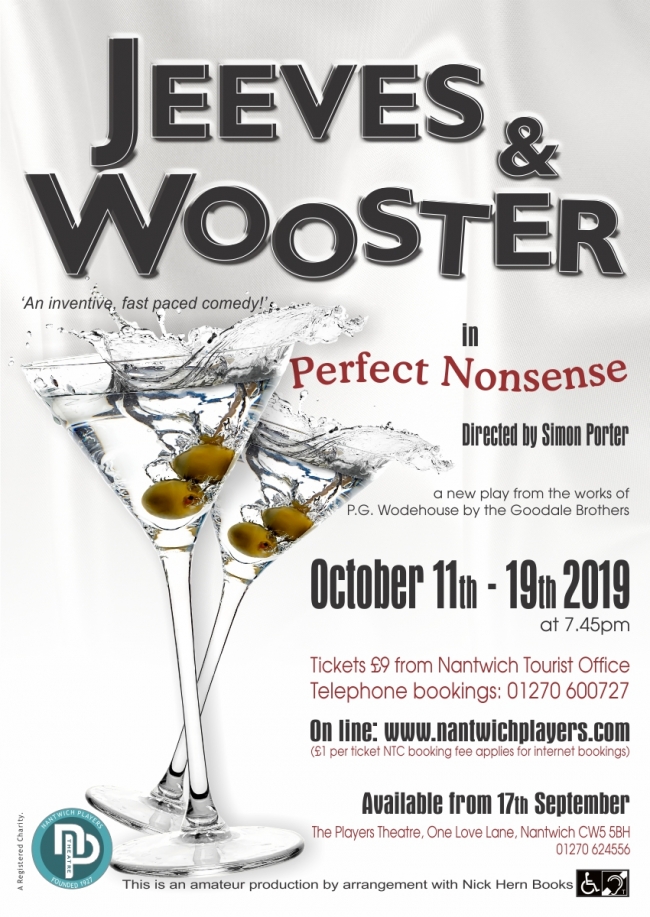 Jeeves and Wooster in Perfect Nonsense
Fri 11 October 2019 - Sat 19 October 2019
a new play from the works of P.G. Woodhouse by the Goodale Brothers
"Man and boy, Jeeves, I have been in some tough spots in my time, but this one wins the mottled oyster"
Join everyone's favourite aristocratic man about town, Bertie Wooster, and his dutiful valet Jeeves for a weekend away at a country house, Totleigh Towers.
When Wooster is called on to play matchmaker and inadvertently steals an antique silver cow-creamer (don't ask), the ever-dependable Jeeves is on hand to step in and save Bertie's bacon.
Three actors play a multitude of characters in this inventive and totally bonkers send-up of P.G. Wodehouse's iconic double act, which won the 2014 Olivier Award for Best New Comedy.
Jeeves and Wooster is packed with Wodehouse's trademark verbal polish and punch and will have the audience laughing out loud.
'An inventive, fast paced comedy!'
Directed by Simon Porter performances will be at 7.45pm on 11th – 19th October 2019. Tickets priced at £9.00 will be on sale from Nantwich Tourist Office (01270 600727) or on-line at www.nantwichtowncouncil.gov.uk from Tuesday 17th September 2019 at 9am.
Priority tickets for our VIP Supporters go on sale Saturday 14th September at the Theatre. To find out more about becoming a VIP Supporter visit the membership section of the website.