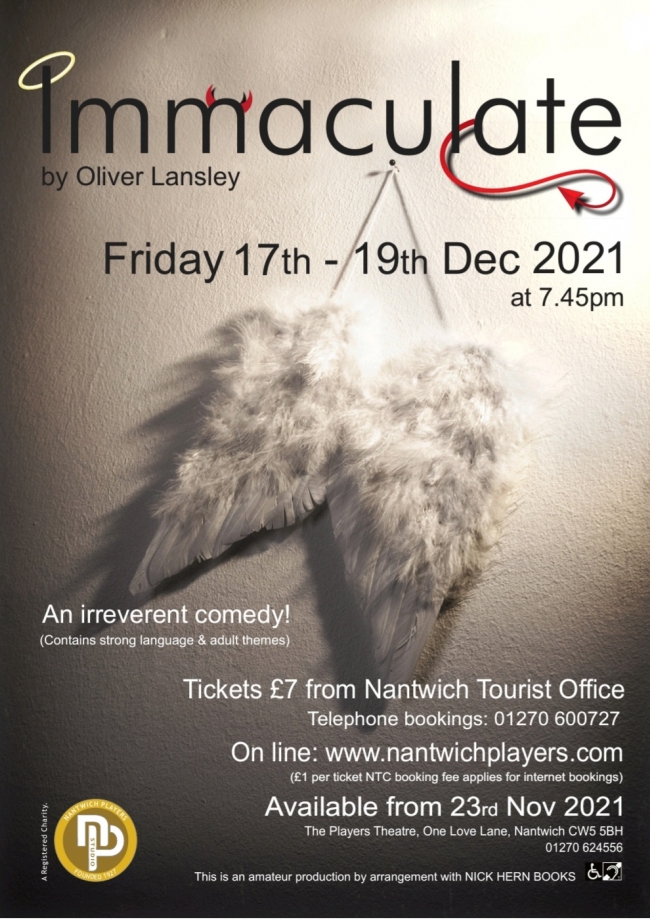 Immaculate
Fri 17 December 2021 - Sun 19 December 2021
NP Studio presents Immaculate by Oliver Lansley
Oliver Lansley's Immaculate is a wonderfully comic variation on the virgin birth in which a young woman finds her life spiralling into confusion when she wakes up one morning unaccountably pregnant. It was first performed by Les Enfants Terribles Theatre Company as part of the 2005 Edinburgh Festival Fringe at the Gilded Balloon, Edinburgh, on 3 August 2005.
This Fantastic piece of Irreverent comedy takes place in a small bedsit belonging to Mia. Young, free and single, she hasn't had sex for the last eleven and a half months. So, when she wakes up one morning heavily pregnant with the Angel Gabriel on her doorstep claiming parentage, she is understandably flummoxed. When her exboyfriend, Michael, then decides he's the father, it seems it can't get any worse. However, things take an even more surreal turn when Mia's old classmate Gary turns up claiming it's his baby – and suddenly Lucifer wants in on the action too.
Oliver Lansley's writing is spot on, fearless and hits the comic tone with a perfect punch that will send the audience into unstoppable fits of laughter.
"An irreverent comedy!"
Contains strong language and Adult Themes.
Led by NP Studio performances will be at 7.45pm on 17th – 19th December 2021. Tickets priced at £7.00 will be on sale from Nantwich Tourist Office (01270 600727) or on-line at www.nantwichtowncouncil.gov.uk from Tuesday 23rd November 2021 at 9am.
Priority tickets for our VIP Supporters go on sale Saturday 6th November 2021 at the Theatre. To find out more about becoming a VIP Supporter visit the membership section of the website