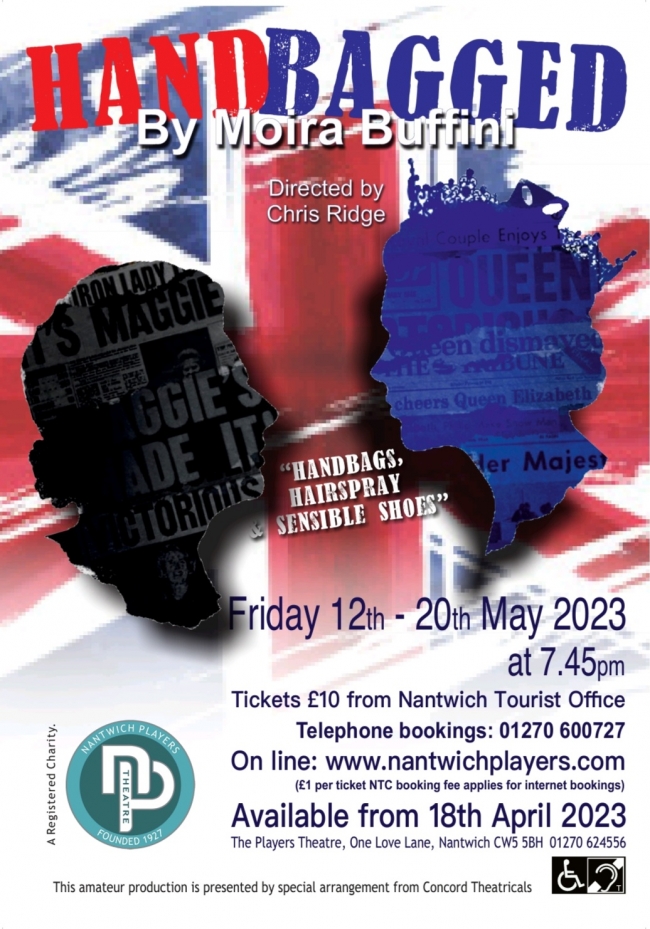 Handbagged
Fri 12 May 2023 - Sat 20 May 2023
by Moira Buffini
Over the course of a decade, two of Britain's most iconic women meet regularly. In private. Sharing their views on what it means to be British and navigating their opposing opinions, do their smiles tell a true story? What actually happened behind those closed doors?
The meetings between Queen Elizabeth II, and Margaret Thatcher became infamous in the '80s. In this theatrical comedy, Moira Buffini imagines their relationship and looks at what might have happened when two of the most powerful characters of our time came face-to-face.
Sharply funny, packed with satirical humour and highly entertaining, Handbagged will make you question what you think you know about the people who lead us. It features the Monarch, the Prime Minister and a host of surrounding characters including Ronald and Nancy Reagan, Geoffrey Howe, Denis Thatcher plus many more!
Directed by Chris Ridge performances will be at 7.45pm on 12
th
– 20
th
May 2023. Tickets priced at £10 will be on sale from Nantwich Tourist Office (01270 600727) or on-line at
www.nantwichtowncouncil.gov.uk
from Tuesday 18
th
April 2023 at 9am.
Priority tickets for our VIP Supporters go on sale Saturday 15th April 2023. To find out more about becoming a VIP Supporter visit the membership section of the website