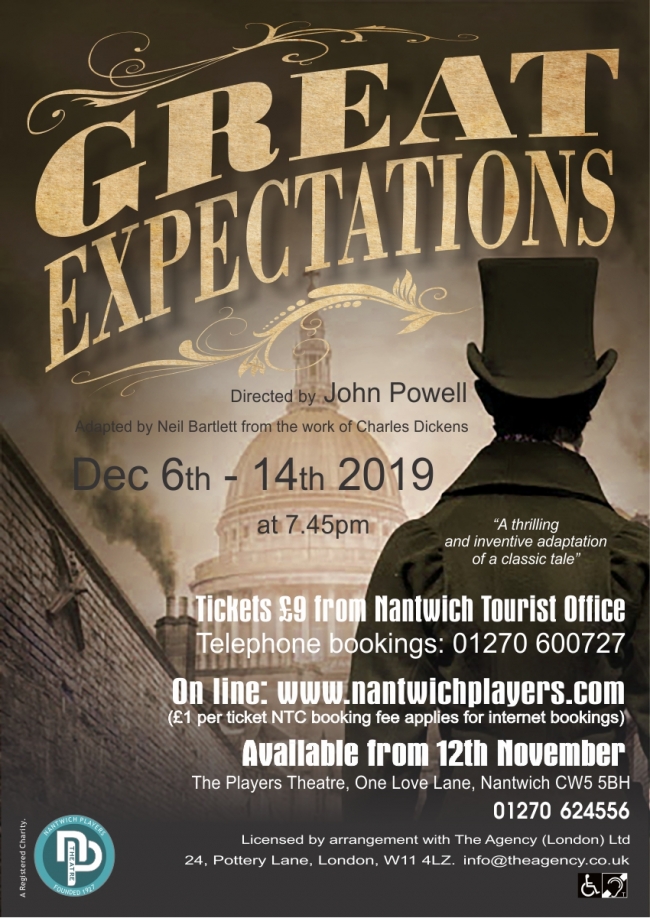 Great Expectations
Fri 6 December 2019 - Sat 14 December 2019
Adapted by Neil Bartlett from the work of Charles Dickens
Using only Charles Dickens' extraordinary words Neil Bartlett's powerful stage version of this much-loved story brings its settings and characters to thrilling theatrical life.
An encounter in a fog-laden churchyard changes orphan Pip's life forever. Against the dramatic backdrop of the vast, windswept marshes, Pip struggles to come to terms with his mysterious "great expectations". Haunted by the eccentric Miss Havisham and tormented by his love for the cold-hearted and capricious Estella, Pip's changed fortunes take him to London to become a gentleman where his benefactor is revealed in a dramatic chain of events.
This brand-new adaptation takes its audience on a journey right to the heart of Dickens' great exploration of childhood terrors and hopes - and of adult dreams and regrets.
We follow Pip's transformation to a man of great expectations in this tale of morality, love and obsession.
"A thrilling and inventive adaptation of a classic tale"
Directed by John Powell performances will be at 7.45pm on 6th – 14th December 2019. Tickets priced at £9.00 will be on sale from Nantwich Tourist Office (01270 600727) or on-line at www.nantwichtowncouncil.gov.uk from Tuesday 12th November 2019 at 9am.
Priority tickets for our VIP Supporters go on sale Saturday 9th November at the Theatre. To find out more about becoming a VIP Supporter visit the membership section of the website.