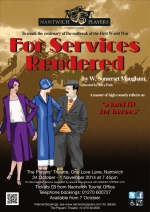 FOR SERVICES RENDERED
Wed 1 October 2014
FOR SERVICES RENDERED by W. Somerset Maugham
A master of high comedy reflects on 'a land fit for heroes'.
Summer, 1932. For Leonard Ardsley, memories of the Great War are fading as he looks forward to a happy round of tennis parties and motor trips. For his children, the War has never ended ...
'We were the dupes of the incompetent fools who ruled the nations ... They muddle on, muddle on, and one of these days they'll muddle us all into anther war.'
Directed by Jerry Park, performances will be at 7.45pm on 24 October - 1 November, 2014.
Tickets priced at £8.00 will be on sale from Nantwich Tourist Office (01270 600727) from 7 October.