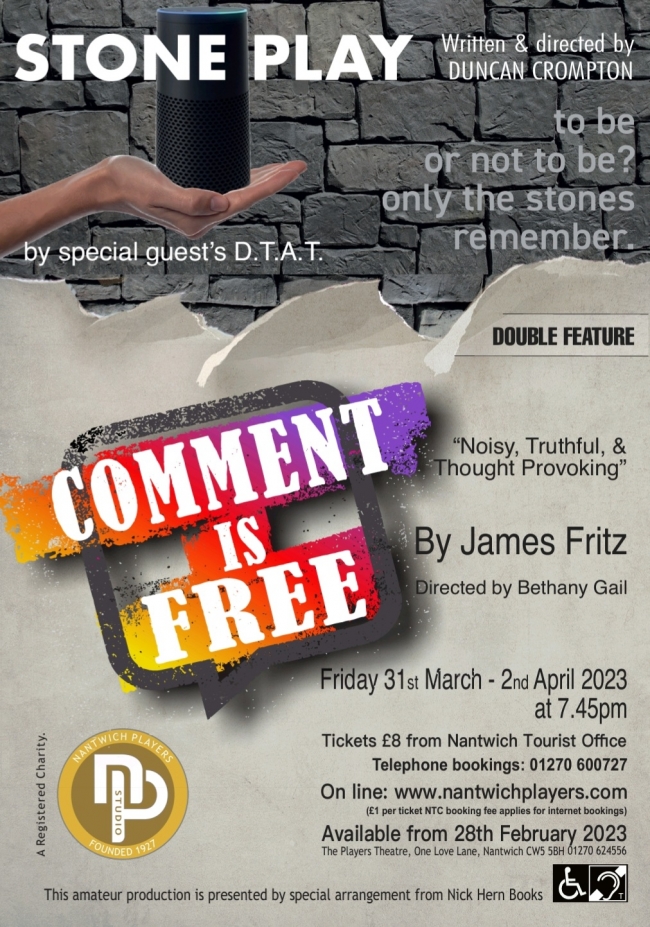 Double Bill: Stone Play & Comment is Free
Fri 31 March 2023 - Sun 2 April 2023
STONE PLAY by D.T.A.T..
Written by Duncan Crompton
In a not-so-distant theatre, one small band of players and an AI assistant must face their greatest challenge yet- more so than even forgetting their lines or tripping over the furniture. Haunted by a virtually known future which is past, and a past virtually forgotten, they seek the MacGuffin of truth, as must all great players. Imagined and real worlds are taken, there's no faking, Shakespeare has never looked so shaken, minds and Wills' are breaking; in this twice in a life time event…
COMMENT IS FREE
by James Fritz
Everybody hates Alistair Cooper and they're not afraid of saying it. A journalist forms the centre of a devastating media storm in this urgent, gripping and innovative play.
Comment is Free is James Fritz's brutal examination of our obsession with free speech and the voyeuristic nature of social media and 24-hour news. A stylised piece for many voices, it explores the aftermath of a fatal attack on a controversially outspoken political commentator through the ensuing online storm. It shines a harsh light on contemporary society and asks big questions about the power of words and personal responsibility, both on and off line.
"A brilliant piece... It took my breath away"
Telegraph on Comment is Free
Performances will be at 7.45pm on 31st March – 2nd April 2023. Tickets priced at £8 will be on sale from Nantwich Tourist Office (01270 600727) or on-line at www.nantwichtowncouncil.gov.uk from Tuesday 28th February 2023 at 9am.
Priority tickets for our VIP Supporters go on sale Saturday 25th February 2023. To find out more about becoming a VIP Supporter visit the membership section of the website