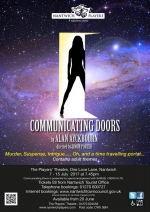 COMMUNICATING DOORS
Sat 1 July 2017
COMMUNICATING DOORS by Alan Aykbourn
This intricate time-travelling comic thriller by the British master of farcical comedy delighted London and New York audiences. A London sex specialist from the future stumbles into a murder plot that sends her, compliments of a unique set of hotel doors, travelling back in time. She flees and somehow triggers a time machine.
" 'Let's do the Time Warp' they sing in The Rocky Horror Show. That might be the motto for this dazzlingly ingenious 1994 play by Alan Ayckbourn which has echoes of Back to the Future, Psycho and the time-plays of JB Priestley. But what is impressive is how Ayckbourn uses a fiendishly clever plot to impart the cheering message that foreknowledge enables us to alter our destiny."
The Guardian
"A real knockout...A vastly entertaining blend of the West End drawing room thriller with one of Priestley's old time plays, where characters go whirling throughout time. Of course, Ayckbourn has added innumerable piquant and bizarre details of his own...This is a show to see."
The New York Post
Directed by Simon Porter, performances will be at 7.45pm on 7th – 15th July, 2017.
Auditions will be held at the Theatre at 7.45pm on Tuesday 11th April. Non-members may audition by joining and paying membership on the night.
If you have never been a member of the Players before, you may pay an audition fee of £10 and then, if successful, pay the remaining £15 membership on or before the first rehearsal.
Tickets priced at £8.00 will be on sale from Nantwich Tourist Office (01270 600727) or on-line at www.nantwichtowncouncil.gov.uk from Tuesday 20th June 2017.