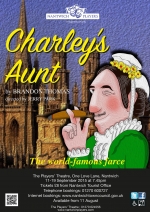 CHARLEY'S AUNT
Tue 1 September 2015
CHARLEY'S AUNT by Brandon Thomas
To impress Amy and Kitty - the girls they hope to marry - Oxford undergraduates Jack Chesney and Charley Wykeham invite them to lunch to meet Charley's long-lost aunt from Brazil. But when wealthy widow Donna Lucia d'Alvadorez fails to show up, they press-gang their friend Babs - Lord Fancourt Babberley - into impersonating her. Mayhem follows mayhem, as Babs makes a very imperfect chaperone, and is kept busy fighting off the advances of the girls' guardian, before the real Donna Lucia finally arrives and the course of true love triumphs.
Brandon Thomas' world-famous farce has been delighting audiences since it began its original record-breaking London run in 1892.
Directed by Jerry Park, performances will be at 7.45pm on 11 - 19 September, 2015.
Tickets priced at £8.00 will be on sale from Nantwich Tourist Office (01270 600727) or on-line at www.nantwichtowncouncil.gov.uk from 11 August 2015.