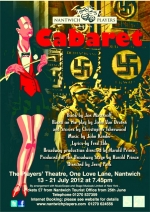 CABARET
Sun 1 July 2012
CABARET - Book by Joe Masteroff, based on the play by John Van Druten and stories by Christopher Isherwood.
This is a musical play that needs no introduction. It tells the story of unlikely friendships and affaires in a lodging house and nightclub in the Berlin of the Weimar Republic, during the years immediately before Hitler came to power.
But a dark nemesis lurks around the corner for those who live their lives as amoral cabaret .....
Performances at 7.45pm 13 -21 July 2012
Tickets on sale at Nantwich Tourist Office (01270 537359) from 25th June