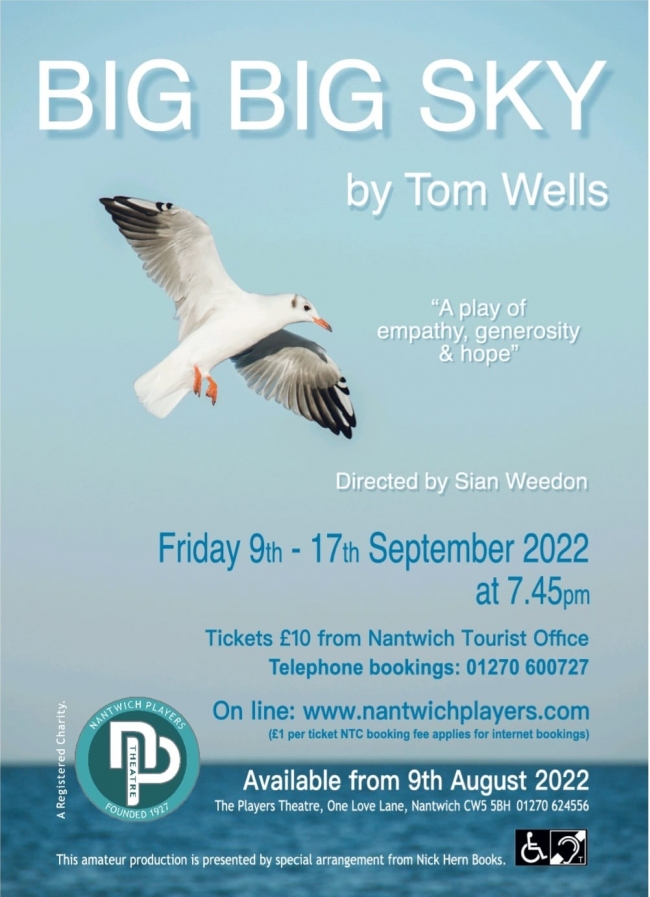 Big Big Sky
Fri 9 September 2022 - Sat 17 September 2022
by Tom Wells
"As warm as an electric blanket on a nippy night...a play of empathy, generosity and hope"
Kilnsea, East Yorkshire. Angie and Lauren are closing up th café for another winter; the birds have gone south taking the tourists with them. The last visitor is Dennis, stopping by for his pasty and beans. But there's another arrival - one that's unforseen and life changing for them all. A simple heart-warming play about everything people dealing with everyday life, their connections and relationships.
Tom Wells' beautifully tender new play explores nature's influence on love, friendship and family - the belief that anyone who's lost can be found, even in the remotest of places.
Sian Weedon's directorial debut, "our audience will people-watch as if they have pulled up a chair in this earthy cafe and listen to Angie, Lauren, Dennis and Ed over a nice pot of tea and a pasty! No big explosions, just people"
Directed by Sian Weedon performances will be at 7.45pm on 9th – 17th September 2022. Tickets priced at £10 will be on sale from Nantwich Tourist Office (01270 600727) or on-line at www.nantwichtowncouncil.gov.uk from Tuesday 9th August 2022 at 9am.
Priority tickets for our VIP Supporters go on sale Saturday 6th August 2022. To find out more about becoming a VIP Supporter visit the membership section of the website