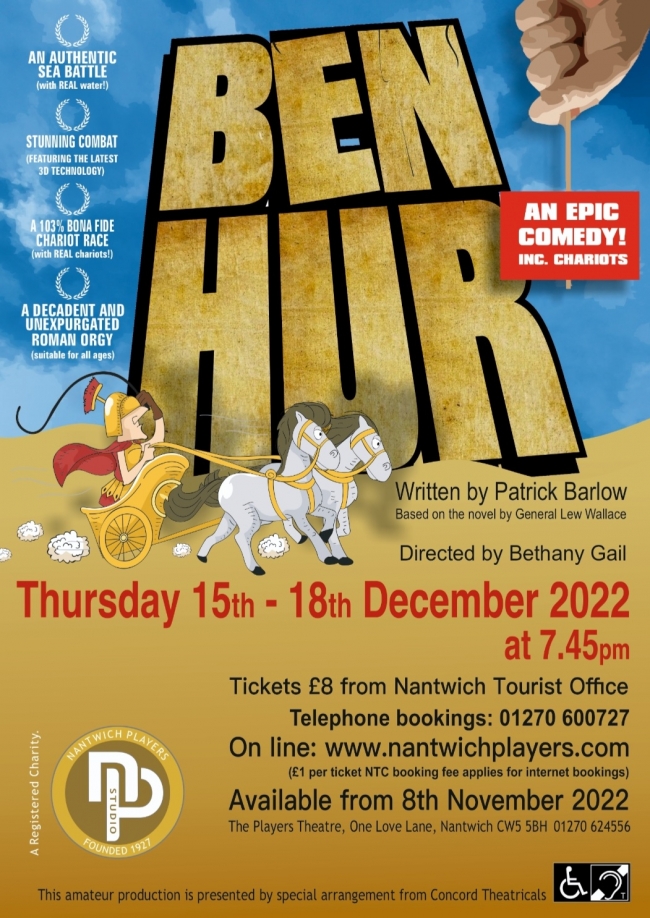 Ben Hur
Thu 15 December 2022 - Sun 18 December 2022
by Patrick Barlow Based on the novel by General Lew Wallace
They said it was unachievable!

They said it couldn't be done!

But now the greatest book ever penned is brought to the stage by a towering team of actors – turning Nantwich Players Theatre into one of the most authentic versions of Ancient Rome ever seen!

Ben Hur. Ben Hur? Really? Who the devil would think of adapting Ben Hur for the stage? Well, actor-playwright Patrick Barlow, well-known for his adaptation of Hitchcock's 'The 39 Steps', has certainly pulled out every stop imaginable to create a totally hilarious and epic 'goes wrong' script with high energy and extreme silliness akin to the Monty Python team. Lovers of Carry On and Monty Python will love this. The show is daft but as clever as it gets, Complete with...
Stunning combat (featuring the latest 3D technology)!
A 103% bona fide chariot race (with REAL chariots)!
An authentic sea battle (with REAL water)!
A decadent and unexpurgated Roman orgy (suitable for all ages)!
Our story follows an amateur theatre troupe as they produce the massive tale of the fictional Jewish prince and merchant Judah Ben-Hur. He falls to galley slave and rises to champion charioteer within Jerusalem during the life of Jesus Christ.
The actors struggle along through the piece as rivalries form and offstage romances interfere. Complete with a chariot race, sea battle, and stage combat, this comedy is not to be missed!
Directed by Bethany Gail performances will be at 7.45pm on 15
th
– 18
th
December 2022. Tickets priced at £8 will be on sale from Nantwich Tourist Office (01270 600727) or on-line at
www.nantwichtowncouncil.gov.uk
from Tuesday 8
th
November 2022 at 9am.
Priority tickets for our VIP Supporters go on sale Saturday 5th November 2022. To find out more about becoming a VIP Supporter visit the membership section of the website