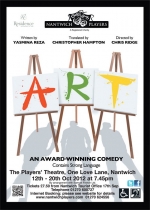 ART
Mon 1 October 2012
ART by Yasmina Reza, translated by Christopher Hamton
Marc, Serge and Yvan have been close friends for years. Serge has just bought a painting for a huge sum of money. Marc hates it and can't believe his friend would want such a work. Yvan's unsuccessful attempts to smooth over disagreement don't sit well with the others. As the situation comes to a head this once close friendship starts to crumble.
If your friendship is based on tacit mutual agreement what happens when one person does something completely different and unexpected?
Please note this play contains strong language.
Performances at 7.45pm 12 - 20 October 2012
In association with The Residence
Tickets on sale at Nantwich Tourist Office (01270 600727) from 17 September