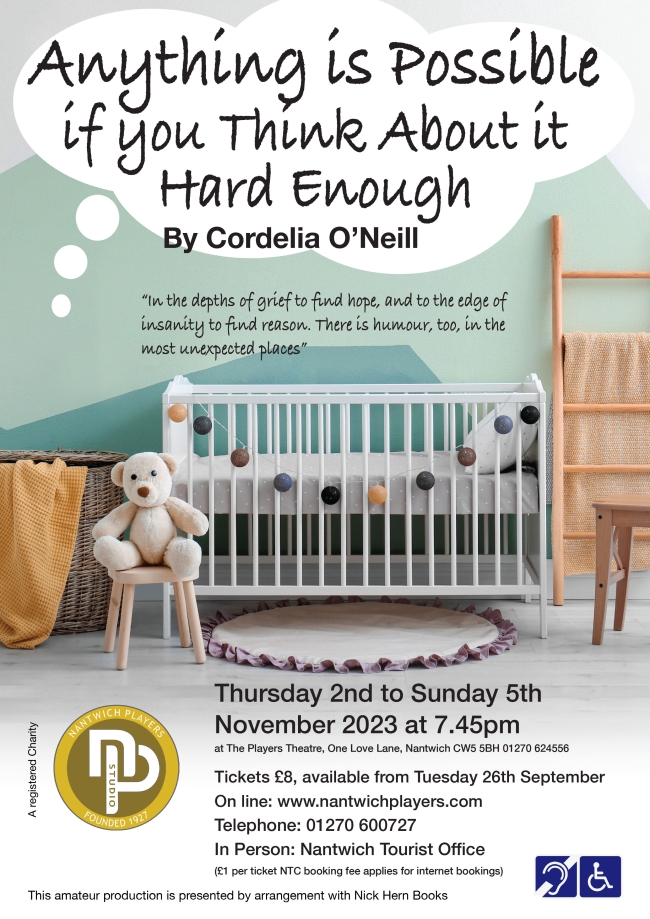 Anything is Possible if you Think About it Hard Enough
Thu 2 November 2023 - Sun 5 November 2023
Prepare to be enchanted as you embark on a magical journey of dreams and possibilities. Cordelia O'Neill's captivating play invites you to a world where imagination knows no bounds.
In a charming and intimate theatre setting, we follow the lives of two intriguing characters whose paths intertwine unexpectedly. As their stories unfold, you'll be drawn into a world of whimsy and wonder, where the boundaries between reality and fantasy blur.
With O'Neill's masterful storytelling, "Anything is Possible if you Think About it Hard Enough" delves into the depths of human emotions and the extraordinary power of believing in the impossible. This poignant and uplifting experience will leave you with a renewed sense of wonder and hope. Don't miss this opportunity to be part of a heartwarming and thought-provoking journey.
Performances will be at 7.45pm on 2
nd
– 5
th
November 2023. Tickets priced at £8 will be on sale from Nantwich Tourist Office (01270 600727) or on-line at
www.nantwichtowncouncil.gov.uk
from Tuesday 26
th
September 2023 at 9am.
Priority tickets for our VIP Supporters go on sale Saturday 23rd September 2023. To find out more about becoming a VIP Supporter visit the membership section of the website