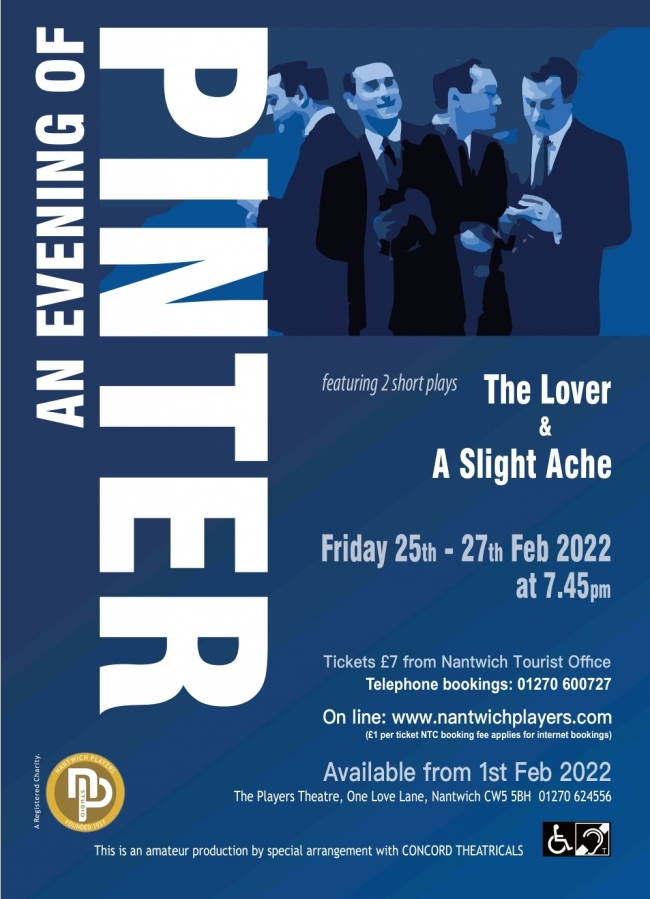 An Evening of Pinter
Fri 25 February 2022 - Sun 27 February 2022
NP Studio presents An Evening of Pinter featuring 2 of Pinter's most loved one act plays - The Lover & A Slight Ache.
The Lover is a quirky, tense, intriguing one-act by Harold Pinter that examines the private intricacies of modern marriage.
To all outward appearances, Sarah and Richard are a respectable, conventional suburban couple.
Behind closed doors, however, things are not quite as they seem... Like any of Pinter's works, this oneact contains the laughs, tears, and tensions that arise from the social intricacies of modern life.
A Slight Ache is set on a beautiful midsummer's day, however it's clear that there is trouble in paradise, and the tensions, seething
resentments and power struggles that are brewing come to a head when the mute matchseller, who has apparently been standing at the couple's garden gate for months, is invited into the house.
A wonderfully engaging play focusing on the mind games of perspective and reality.
Led by the NP Studio team performances will be at 7.45pm on 25th – 27th February 2022. Tickets priced at £7.00 will be on sale from Nantwich Tourist Office (01270 600727) or on-line at www.nantwichtowncouncil.gov.uk from Tuesday 1st February 2022 at 9am.
Priority tickets for our VIP Supporters go on sale Saturday 8th January 2022 at the Theatre. To find out more about becoming a VIP Supporter visit the membership section of the website