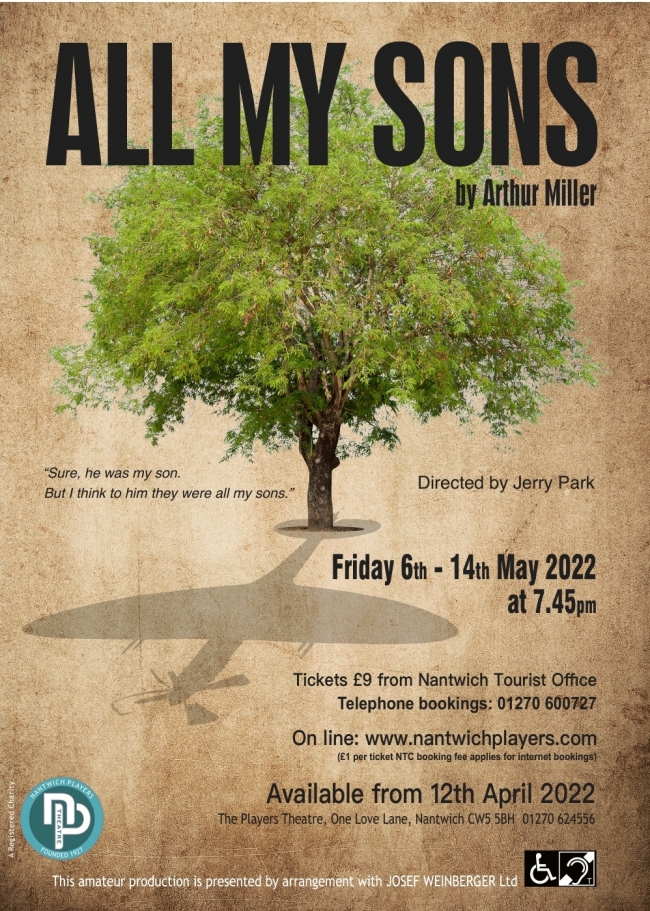 All My Sons
Fri 6 May 2022 - Sat 14 May 2022
by Arthur Miller
This much-loved classic tale begins its story in a shady garden in the American suburbs. All My Sons is a mesmerising story of the longer shadows cast by World War II. Joe Keller runs a successful engineering firm but conceals a devastating secret. His wife Kate does not accept that their son Larrie, who was killed in the War, is truly dead. Larrie's fiancée and the younger Keller son Chris are frustrated in the trials they face forging new lives.
Over a single day in 1947, the Kellers come to terms with the truth about themselves and American society.
All My Sons was the first stage success of one of the greatest dramatists of the 20th century, Arthur Miller.
"Sure, he was my son. But I think to him they were all my sons."
Directed by Jerry Park performances will be at 7.45pm on 6th – 14th May 2022. Tickets priced at £9.00 will be on sale from Nantwich Tourist Office (01270 600727) or on-line at www.nantwichtowncouncil.gov.uk from Tuesday 12th April 2022 at 9am.
Priority tickets for our VIP Supporters go on sale Saturday 9th April 2022 at the Theatre. To find out more about becoming a VIP Supporter visit the membership section of the website