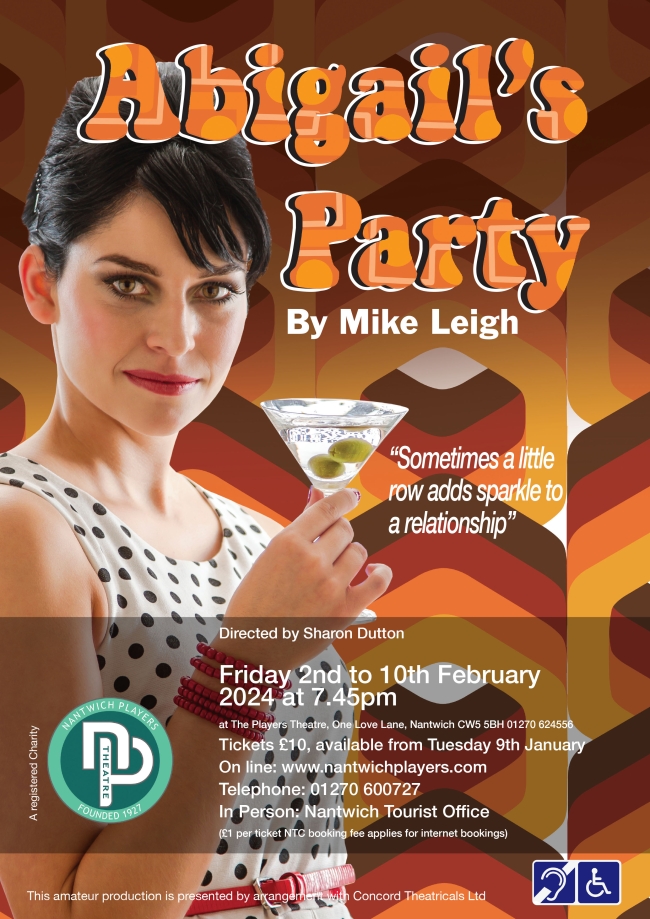 Abigail's Party
Fri 2 February 2024 - Sat 10 February 2024
Indulge in an evening of unforgettable drama and biting wit with Mike Leigh's "Abigail's Party." Transport yourself to a seemingly ordinary suburban gathering that spirals into a captivating exploration of human relationships and social dynamics.
Set in the swinging '70s, this darkly comedic play, made famous by BBC Play for Today, introduces you to a group of eccentric characters, each with their own quirks and desires. As the evening unfolds, tensions rise, and hidden truths simmer beneath the surface, revealing the complexities of human behaviour and the facade of politeness.
Leigh's brilliant writing and keen observations breathe life into the characters, drawing you deeper into their world with every passing moment. "Abigail's Party" is a rollercoaster of emotions, blending humour and drama in a way that will keep you on the edge of your seat until the very end. Don't miss the chance to witness this riveting portrayal of human nature.
Directed by Sharon Dutton performances will be at 7.45pm on 2
nd
– 10
th
February 2024. Tickets priced at £10 will be on sale from Nantwich Tourist Office (01270 600727) or on-line at
www.nantwichtowncouncil.gov.uk
from Tuesday 9
th
January 2024 at 9am.
Priority tickets for our VIP Supporters go on sale Saturday 6th January 2024. To find out more about becoming a VIP Supporter visit the membership section of the website