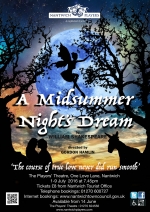 A MIDSUMMER NIGHT'S DREAM
Fri 1 July 2016
A MIDSUMMER NIGHT'S DREAM by William Shakespeare
A Midsummer Night's Dream is Shakespeare's most enchanting, magical play. Over the course of four nights in a mad forest, crowded with moon-crossed lovers, love and illusion collide when all become entangled in fairy mischief on the eve of a Royal Wedding. In this Midsummer of Love, dreams and reality become entwined and romantic chaos ensues.
Love is a drug; but in the eye of the beholder is seeing really believing? Theatre's most famous amateur theatre company, The Mechanicals, with Bottom, the group's enthusiastic leading man, and Peter Quince, the company's long-suffering director will also present 'The Most Lamentable Comedy, and Most Cruel Death of Pyramus and Thisby.'
The Bard's joyous hymn to love and fertility.
"Love looks not with the eyes, but with the mind,
And therefore is winged Cupid painted blind."
"Lord, what fools these mortals be!"
"Four days will quickly steep themselves in night;
Four nights will quickly dream away the time;
And then the moon, like to a silver bow
New-bent in heaven, shall behold the night
Of our solemnities."
Directed by Gordon Hamlin, performances will be at 7.45pm on 1 - 9 July, 2016.
Auditions will be held at the Theatre at 7.45pm on Tuesday 12th April. Non-members may audition by joining and paying membership on the night.
Tickets priced at £8.00 will be on sale from Nantwich Tourist Office (01270 600727) or on-line at www.nantwichtowncouncil.gov.uk from 14 June 2016.