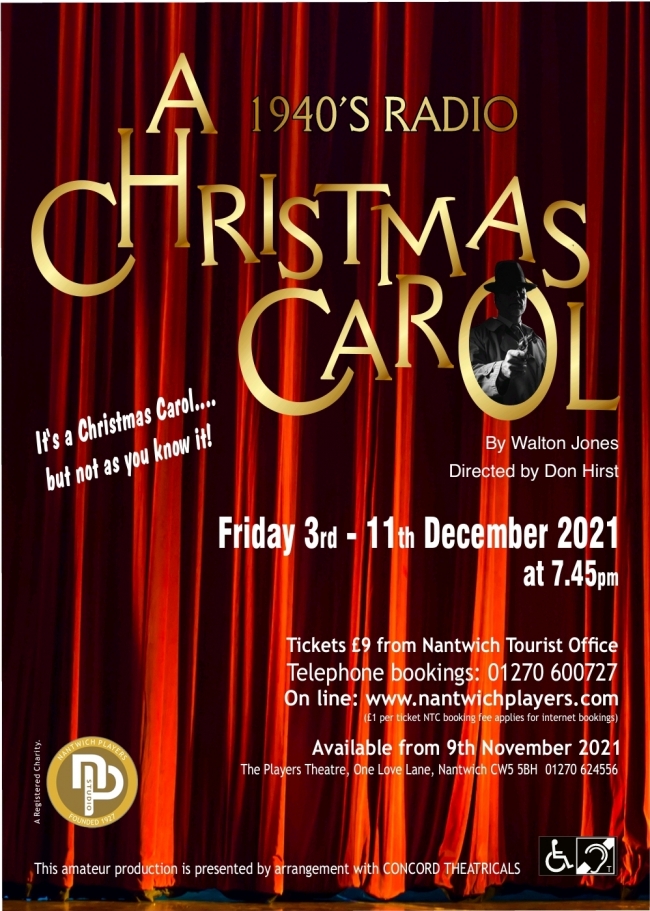 A 1940s Radio Christmas Carol
Fri 3 December 2021 - Sat 11 December 2021
NP Studio presents A 1940s Christmas Carol by Walton Jones
It's Christmas Eve, 1943, and the Feddington Players are now broadcasting from a holeinthewall studio in Newark, NJ, and set to present their contemporary "take" on Dickens' A Christmas Carol.
Whether it's the noisy plumbing, missed cues, electrical blackouts, or the overthetop theatrics of veteran actor, but radio novice, William St. Claire, this radio show is an entertaining excursion into the mayhem and madness of a live radio show.
St. Claire's escalating foibles and acting missteps propel the show to a simultaneously comedic and heartwrenching dramatic climax: St. Claire has an on-air breakdown, and begins to connect his own life with that of the classic Dickens tale.
In order to "save the show," the company improvises an ending to Charles Dickens' classic as a film noir mystery featuring a hardboiled detective, a femme fatale, and an absurd rescue of Tiny Tim (and the Lindbergh baby) from the clutches of a Hitleresque villain named Rudolf!
"It's a Christmas Carol.... but not as you know it!"
Directed by Don Hirst performances will be at 7.45pm on 3rd – 11th December 2021. Tickets priced at £9.00 will be on sale from Nantwich Tourist Office (01270 600727) or on-line at www.nantwichtowncouncil.gov.uk from Tuesday 9th November 2021 at 9am.
Priority tickets for our VIP Supporters go on sale Saturday 6th November 2021 at the Theatre. To find out more about becoming a VIP Supporter visit the membership section of the website