Announcing the Nantwich Players Theatre 2023-24 Season
Mon 7 August 2023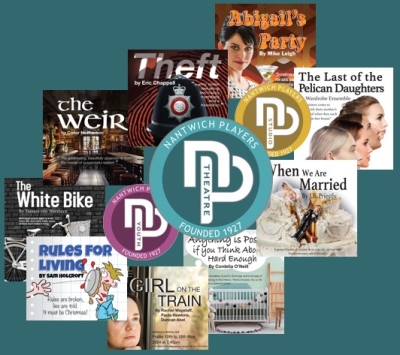 Welcome to a new chapter of theatre at Nantwich Players with our 2023-24 season.
Kicking off our season, immerse yourself in the hauntingly beautiful world of "The Weir". Set in a remote Irish pub, this enchanting play explores the depths of human connection, memory, and the inexplicable.
Next up, join us for a comedy with "Theft". As secrets unravel during an ordinary evening, laughter and chaos ensue. Embark on a rollercoaster of hilarity and clever twists that will leave you guessing until the final curtain call.
Be moved by the power of imagination in "Anything is possible if you think about it hard enough". Join us for a journey of dreams and possibilities, where reality and fantasy blend seamlessly.
At Christmas, step into a world of family dynamics and uproarious comedy with "Rules for Living". Witness the hilarity that ensues when a seemingly simple game of cards takes a dramatic turn. This witty and heartwarming play explores the quirks of human behaviour and the rules we create for ourselves.
In the New Year, immerse yourself in a night of humour and tension with acclaimed director Mike Leigh's classic "Abigail's Party". Join us for this hilarious tragi-comedy that delves into the timeless world of social dynamics and suburban life, where laughter and unexpected twists await.
March 2024 will see our annual Youth Theatre production (further details later).
April brings us "The White Bike" by Tamara von Werthern. Follow a raw and emotional journey as we explore love, loss, and resilience. This poignant and thought-provoking play promises to leave a lasting impact on your heart.
Expect thrills, suspense, and unexpected turns await in our adaptation of "The Girl on the Train". Delve into a world of deception and mystery as a seemingly ordinary train ride unveils a web of secrets.
In June, laugh, celebrate, and revel in the uproarious comedy of "When We Are Married". In a charming English cottage, three couples face unexpected revelations that turn their lives upside down.
Closing the season with the heartwarming and whimsical "The Last of the Pelican Daughters", follow the journey of four extraordinary sisters as they navigate family, love, and sisterhood. This endearing play will leave you with a renewed appreciation for the bonds that tie us together.
Book your tickets here